Our Story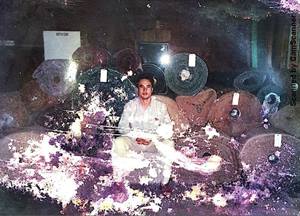 I was 18 years old in 1993 when my father ( a Mexican National business man )invested $30,000 to start International Decorating, a paint store business located at 2815 International Blvd in Brownsville, TX.
My dad owned lumber yards & hardware stores in Mexico and ever since I remember, I spent a lot of afternoons after school, also Saturday's, and summer breaks working and learning from my dad's business ethics, communication skills and his ways of doing business.
At that time, my wife and I had recently married and moved to Brownsville. I worked in the business during the days and continued with my college education as a computer engineer at nights.
I remember back then paint was our main product, but we would do flooring & blind jobs occasionally. Around 1994, we quit selling paint and endeavored in to flooring 100%.
Back at International Decorating we had no forklift, we had to unload and move all merchandise by hand. We barely owned one computer in those days.
In 2001, we had the opportunity to buy a piece of land of the main highway and I started the construction of our 7550 sqft building which took around 6 months to finish. I am proud to have built it myself. In life, nothing is impossible if you have faith and believe in yourself: 5575 N. Expressway 77/83 in Brownsville TX has been our current location since then.
I remembered the advice one of my vendors gave me once: "you will do better if you establish your business on the highway since you will be seen by way more people."
Around that time we decided to change our name to INTERNATIONAL CARPETS and became part of Mohawk's elite partners Color Center. We started to become known in our area by home owners, builders, apartment managers and commercial contractors.
Carpet One
In 2013 that we decided we needed to make a change and Joined CCA Global Partners, "Carpet One," a cooperative with the buying power of 1,000 flooring stores strong nationwide , individually owned and operated. We are the largest buyers of flooring in the USA, more than any other group or Box Store. We also changed our business name again to International Carpet One Floor & Home. Their leadership and advice have taken our business to another level.
In July of 2016, with their help, we opened a NEW BRANCH STORE in the McAllen area which we expect to grow and expand our business to the upper valley.

Our Mission Statement
At International Carpet One we want to be the best in the eyes of our clients, employees and vendors.
Our Objectives
- To always do the right thing no matter what it takes.
- To show our values HONESTY, INTEGRITY, RESPECT & HARDWORK.
-To help and assist our clients by recommending the best product
-To pass all our savings and discounts to our clients (because we pay less , YOU pay less too)
-To be the LEADER in our market area.
-To remain family owned and operated.( My wife and 2 boys work here)
Our Guarantee
If you don't like the way your floor looks we will replace it for FREE
*restrictions apply please see below
Services
-all types of flooring products.
-all types of countertops products
-all types of window treatments and blind products
Installation Services
We Install all these type of products
-Flooring: Carpet, laminate , tile , natural stone, hardwood and vinyl.
-Countertops: Granite , Marble, Quartz
-Blinds: We have certified and experienced installers and have installed millions of square feet.
Our Clients Are:
-Residential clients
-Installers
-Builders
-Commercial clients (hospitals, government ,shopping plazas)
-General Contractors
-Multifamily (apartment complexes)
Final Statement
Give us the opportunity to serve you and you won't be disappointed. For a good reason 1,000's of happy clients have done business with us already.